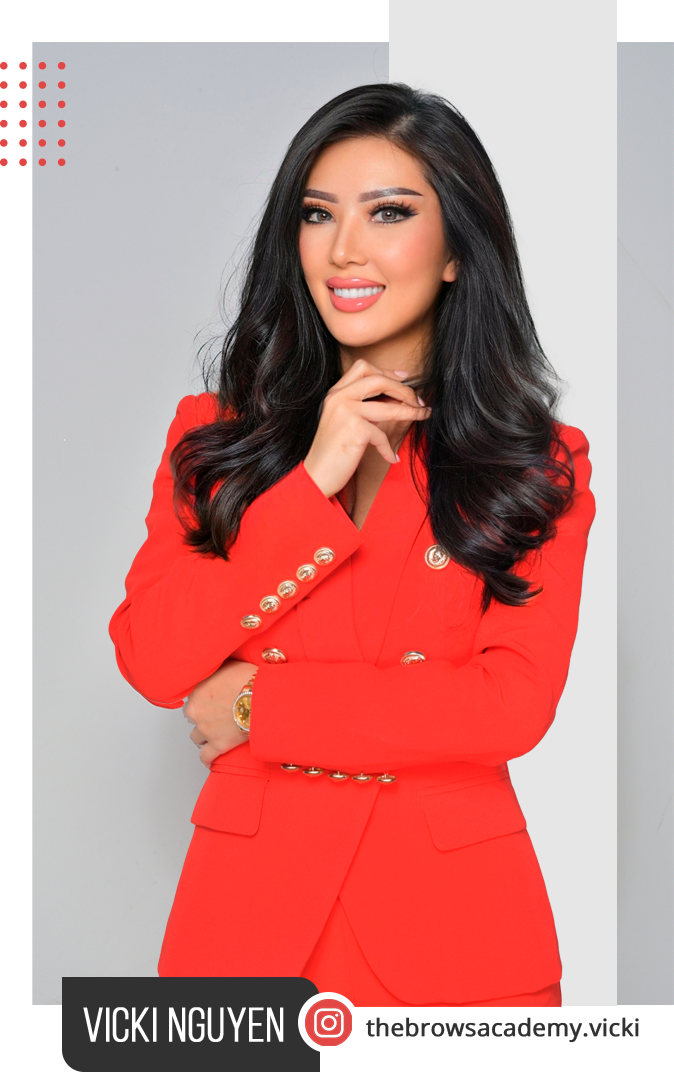 ​​My name is Vicki Nguyen. I have always loved fashion and beauty from a very early age but due to my struggles with my " barely there" eyebrows and my flaky figure, I was forced to use my imagination and creativity and start making my own designs.
I was a recognized fashion designer in the Vietnamese community and got awarded by our very own senator of California Lou Correa for my commitment and dedication to developing and preserving the culture and community service. I have appeared in multiple Vietnamese TV shows and Magazines but at one point I decided to take a break from my fashion career and that led me to find another passion: "Makeup".
My entire life I have been fascinated with makeup and skincare, and tired of having to do my brows every day, I became a licensed Aesthetician and Makeup artist specializing in 6D microblading and I have been fully booked for months, working for top brands like "Yves Saint Laurent".
After becoming a go-getter with years of experience and multiple businesses under my belt. I decided to pursue my raw talent and passion with permanent makeup in the Orange County and Los Angeles area full time. My creative freedom is what makes me unique, for me every woman is unique and each design should be able to reflect their individuality. My designs come from instinct whether it's a fun-loving hand-sewn garment or designing the perfect brows.
I found that the most rewarding job is to be able to make people look good and feel good.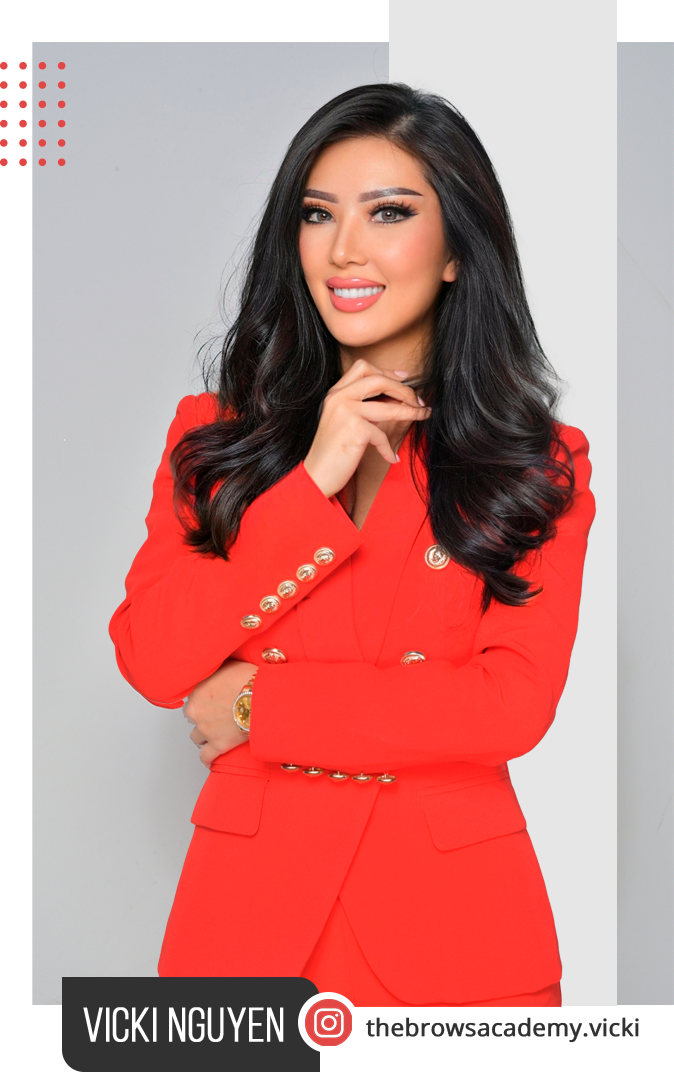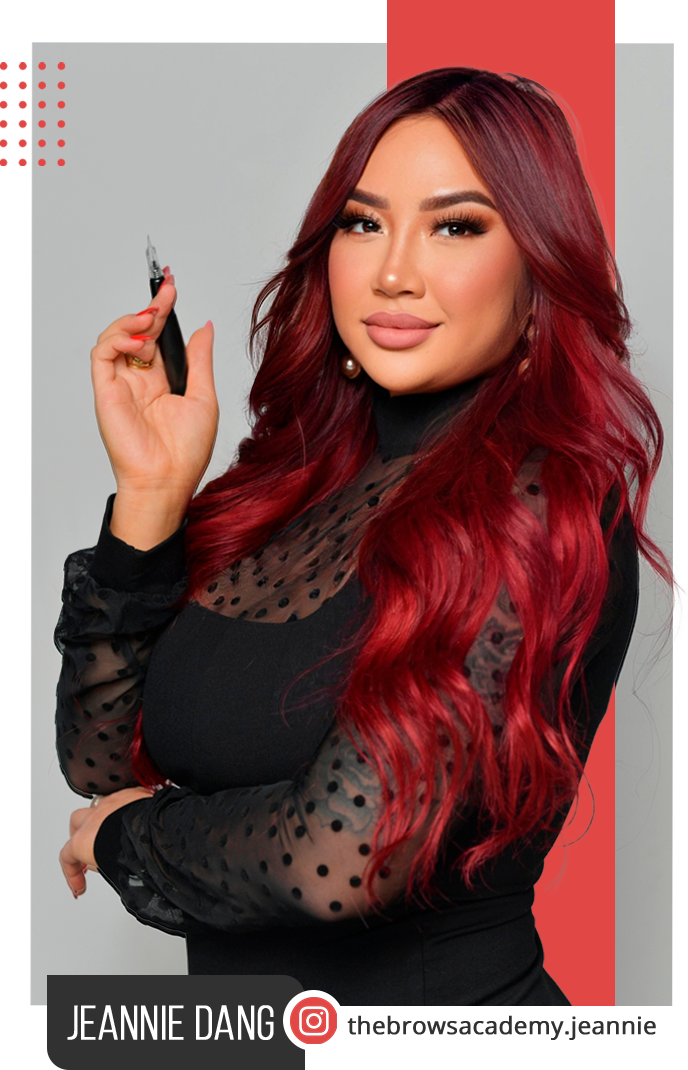 My name is Jeannie and I am one of the artists here at The Brows Academy. I specialize in Microblading, Ombré shading, Eyeliner and Lip Blush. Before I got into this career I did nails for 6 years starting in 2012. That changed When I moved to CA from NM 2018, I got a job in the medical field as a collector for a medical company. Working behind a desk on the computer all day wasn't something I liked doing.
I didn't go looking for other jobs because I thought a job was a job and as long as I am working I'll be ok. I was wrong. Overtime, I didn't have the motivation to go to work from 9-5 or to even do the assignments that were assigned. Slacking became a bad habit. Up until I came across The Brows Academy and was amazed at the brow artwork that can change one's life forever.
I thought to myself that this is something I want to learn. I was honestly afraid to step out and change even though that was something I've been wanting to do! I took that chance and took the course. Investing in myself was by far one of the best decisions I've made. After taking this course it quickly turned into an obsession for creating the most realistic looking brows possible for my clients.
The feelings I get after microblading my clients, seeing their reactions makes me feel some type of way I cannot express. I can finally say I found something I enjoy doing! Not only am I enjoying my work but I am also helping women everywhere feel better about their image and allow them to gain self confidence.

Frequently asked questions
"I've seen cheaper course out there. Why should I train with you?"
Warning. Do not fall for an online training program with no interaction or a 1-day course just because it's cheap. You will leave feeling lost and thirsty for more. You will end up wanting to attend a true professional training class and will spend more money at the end.
Let's get down to the nitty-gritty. We know the price is always the make or break question. Just keep in mind you are investing in yourself and you are getting all the elements you need to successfully work as a microblading artist.
When you are shopping around, make sure the company discloses when you receive the certificate, and ask them what the training days consist of. During class, we want to help you overcome your weaknesses, so your confidence does not waiver when working with your customers.
Also, free videos on YouTube are not enough. They don't hand out certificates, so we never recommend learning from a free video online.
"It's safe to work on live models during my training?"
You have the option to work on a live model the last day of training. When considering this please remember you've had two days of practice, so we leave this as an option, not a requirement.
Remember you have zero experience and are taking a sharp blade to someone's skin, which could cause permanent damage if not handled carefully, so yes, we take every precaution to avoid liability.
That's why every stroke on your model is supervised.
If you are not working on a live model, you will be working on fake skin, can possibly blade your fellow students, or we can help you find a model! We even have a "Model Reschedule Policy" in case your model flakes on you.
"Why are there some competitors that have 5-day classes? And should I learn eyeliner and lip techniques?"
5-day training classes normally consist of just more practice days, quite frankly a lot of people don't have a week to commit to for training, they need to start making money and taking time off means less money in their pocket.
Will you need practice after you've completed the program? ABSOLUTELY, but with our training, you leave knowing how to do this on your own time, and with your 5 case studies we are there to ask questions, as well as offer feedback.
"What products/kit do we use?"
ALL packages come with a kit! We use a variety of products to ensure your success and have handpicked every item in your kit, the supplies are what we use in our locations.
There are certain tools that will make your blading life easier, therefore we provide a selection of different hand tools, including disposable implements for sanitation purposes. We also use pigment from a reputable US-based company. Due to ongoing new product releases, the kits are subject to change.
Your kit will come in a cute case with blades, hand tools, disposables, pigment rings, pigments, fake practice skin, 2 anesthetics, microfiber brushes, aftercare products, and more. We recommend you purchase a few things after training, we give you a mini shopping list in class, don't worry it's not super expensive.
"Do you work with small or big class sizes?"
Our class sizes are small! The average class is 3-4 students. We allow 1 instructor per 5 students if the class gets bigger then we add another instructor. Everyone get the attention you deserve.
"What types of brows I'll be learning?"
We teach several different brows, and a variety of hair strokes; not everyone is going to have the same brow, a lot of competitors will only teach you one type of brow, or one hair stroke.
Our training goes over age groups, ethnicity, skin types, how people heal, brow shapes, and more!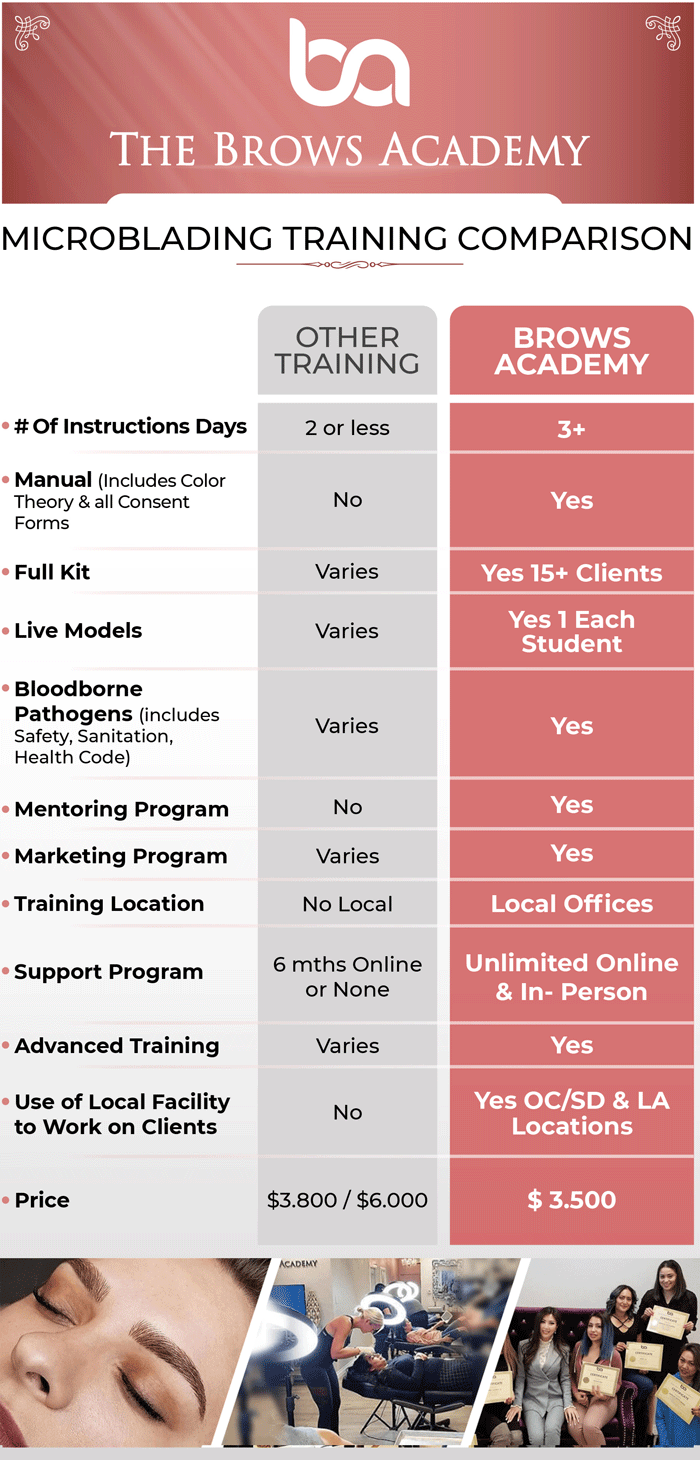 Policies are subject to change over the course of time